What is Write With Impact?
Write With Impact is a blog. This is where I share my thoughts on writing with impact. I'll talk about strategies, techniques, tips, and share resources that can help you become a better writer. While I'll focus primarily on non-fiction, which is my area of expertise, I will occasionally dip into topics related to the craft of fiction, from which I believe non-fiction writers can learn much.
In addition to writing about writing, I'll share insights on publishing and marketing, two areas which I focus on in my work, are particular passions of mine, and also happen to be white hot in terms of reader interest these days. I'll share examples of what has worked for me or for people I've worked with or observed. I'll detail some of these examples in case studies. And I'll share resources that I find useful (and affordable) that help me to be a more effective writer-publisher-marketer.
Sign-up to become a Write With Impact Scribe so you can get the latest blogs and everything else from Write With Impact. It's free, and you can pick-up a free book on writing with more impact while you're at it.
Write With Impact is a podcast. I go into some depth on why I decided to launch a podcast, the format and content and frequency of the show, and what you can expect to get out of it, right here in my introductory episode. You can read through the full text or listen to the podcast.
Write With Impact is a resource hub. Throughout my blog posts and podcast episodes I'll be compiling resources and making them available here, whether as links embedded in a blog post, or in the show notes accompanying podcast episodes. I also have stand-alone sections such as my "Bookshelf", where I feature books that I've discussed in podcast episodes, books that have helped me during my writing journey, or new (and not so new) titles that I think might be useful to you. I also have a Toolkit page where you can find some of the tools I use to build and maintain the blog and podcast.
Write With Impact is a community. Writers need other writers from time to time. For feedback, for encouragement, or just to know that they aren't alone. This is where the Write With Impact community comes in. Leave comments to blog posts and podcasts on this site. Respond to comments others leave. And be sure to join the conversation in the Write With Impact Group on LinkedIn where you can post your latest writing, share tips and resources with other writers, and kick-off conversations about topics you're interested in.
So what's my "back story"?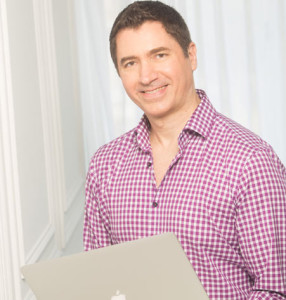 Well, I happen to do a lot of different things. I'm a writer, editor, digital marketer, podcaster, PR guy, videographer, and more. But let me get more specific…
By day, I manage the external communications, publishing and digital marketing for the Greater China practice of McKinsey & Company, a global consulting firm. Through my work I've written or edited hundreds of articles, blog posts, research papers, and books.
I've helped my colleagues get published in dozens of top-tier business publications, including The Wall Street Journal, The Financial Times, The New York Times, Harvard Business Review, Fortune, Forbes, and many more. I've also placed hundreds of feature articles and generated citations of our knowledge, our firm, and our people in thousands of publications, in English as well as Chinese, and in dozens of other languages.
I've been heading up marketing for an Amazon best-selling book about doing business in China over the past year. I've also produced a podcast about Chinese business for the past three and a half years with nearly a million downloads so far.
University / Grad School
At Cornell University, where I majored in Asian Studies, I founded a journal of East Asian politics and social issues that I called, Changing East Asia. It was my first taste of professional publishing, and I've never looked back since then. Against the advice of my college counselor (who happened to be a Vice Dean of Cornell, as well), I plunged ahead and studied Mandarin Chinese and Japanese simultaneously.
At Yale, where I picked up a Master's degree in Asian Studies, I had the privilege of studying with Professor Jonathan Spence, considered one of the great historians of modern China. He's also one of the greatest storytellers I know, weaving fascinating tales from the historical facts he unearths through his incredibly thorough research.
My first job
After Yale, I finally headed to Taiwan where I pursued a career in advertising. I was on the account management side of the business, which meant I helped our corporate clients to develop integrated marketing and communications campaigns. I also had the chance to learn about the art and craft of advertising copywriting, which was a secondary occupation at the time, but through which I picked up a number of useful writing skills that I use even today.
After four years of working in Taiwan, I headed back to the US and earned an MBA in finance and entrepreneurial management from the Wharton School at the University of Pennsylvania.
Earning my chops as a writer and editor
After Wharton, I joined the global management consulting firm McKinsey & Company. I was on the consulting side for the first two years, advising large companies on their strategies and organisational issues. I then moved into a newly-created role in external communications and publishing. I immediately joined the editorial staff of The McKinsey Quarterly, the firm's flagship publication of business and economics. That is where I cut my teeth as an editor, working with our senior partners to craft stories out of the research they conducted during the course of advising some of the largest companies in the world on their toughest management challenges.
In 2004, I was responsible for the publication of the first feature edition of The McKinsey Quarterly devoted entirely to the subject of China. The Quarterly followed up with three additional special editions on China over the following decade.